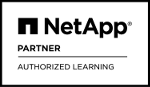 NetApp Certified Storage Associate – Hybrid Cloud (NCSA-HC)
NetApp Certified Storage Associates – Hybrid Cloud certified individuals demonstrate a foundational understanding of NetApp® data storage systems and the products and technologies specifically designed for managing data in today's growing hybrid cloud market. They understand technologies in storage and data management, both on-premise and in a hybrid cloud environment and have an in-depth knowledge of NetApp products and technologies used in managing data in the cloud.
NCSA-HC certificates will be granted to those individuals who successfully pass the NetApp Certified Storage Associate -HC (NS0-146) exam.
Recommended Training:
Экзамены
NS0-146
Exam Topics:
Flash Fundamentals
Storage Fundamentals
Network Fundamentals
Virtualization Technology Fundamentals
Cloud Fundamentals
NetApp Products
ONTAP Fundamentals (including NAS and SAN)
Technical overview knowledge of:

AltaVault
StorageGrid Webscale
OnCommand Management Solutions

Configuration and Administration basic knowledge for:

Cloud storage solutions
ONTAP Cloud or Cloud Manager
AltaVault