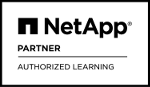 Implementing VMware vSphere on ONTAP (IMPVMWAR)
Course Overview
In this course, you learn how to implement NetApp's Virtual Storage Console by deploying, managing, and protecting a VMware virtual infrastructure in both SAN and NAS environments using ONTAP. It also covers the implementation details for both traditional datastores and Virtual Volumes using Storage Policy Based Management. Monitoring of both traditional and VVOL performance characteristics are covered in lecture and hands on labs.Updated to align with ONTAP v9.4.
Кому следует посетить
NetApp employees, channel partners and customers
Предварительные требования
The following training classes or equivalent knowledge are recommended:
Цели курса
This course focuses on enabling you to do the following:
Describe the components of NetApp storage and how they integrate into a vSphere environment
Identify the types of datastores created by the Virtual Storage Console (VSC)
Explain how VSC provides an automated datastore provisioning capability
Describe the VVol datastore management process
Create VVol datastores and VVols
Identify performance characteristics of VVols using VSC
Monitor virtual machines with VSC performance dashboard
List the customer implementations for backup, restore and cloning capability when integrating vSphere with NetApp
Classroom training
Длительность 2 дня
Цена
Россия:

US$ 1 800,– *

NetApp Training Units:

24 NTU




NTUs могут иметь другую стоимость при использовании в стране отличной от страны их покупки.
Online training
Длительность 2 дня
* Расчеты в рублях по курсу ЦБ РФ.
Все цены указаны без учета НДС.
Даты и регистрация
В настоящее время расписание на курс отсутствует