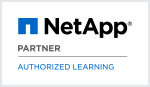 ONTAP Performance Analysis (PERFCDOT)
Кому следует посетить
Professionals who manage NetApp storage systems and would like a deeper understanding of Clustered Data ONTAP system performance
Предварительные требования
ONTAP Cluster Fundamentals course
ONTAP Cluster Administration course
Hands-on experience with ONTAP software (6 to 12 months)
Цели курса
Understand how a storage system running ONTAP 9 functions
Identify the commands and tools to use to collect and monitor storage system performance
Interpret performance data and identify hindrances to storage system performance
Use system commands and features to enhance storage system performance and efficiency
Содержание курса
This course provides you with the knowledge and skills that you need to collect and analyze system performance data from NetApp storage systems that are running ONTAP 9. You will learn how to interpret data and how to identify and implement changes that improve system efficiency. You will also learn how to use system commands and features to monitor and enhance storage system performance by using hands-on exercises, case studies and technical discussion.
Classroom training
Длительность 3 дня
Цена
Россия:

US$ 2 700,- *

Азербайджан:

US$ 2 160,- *

Казахстан:

US$ 2 160,- *

Украина:

US$ 2 160,- *

NetApp Training Units:

36 NTU




NTUs могут иметь другую стоимость при использовании в стране отличной от страны их покупки.
Даты проведения
* Расчеты в рублях по курсу ЦБ РФ
Для регистрации на курс нажмите на название города
Даты и регистрация
FLEX
тренинги проводятся в классе с возможностью присутствия дистанционных слушателей.