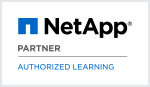 SnapCenter Administration (SCADMIN)
Who should attend
NetApp and NetApp Partner Professional Services
Systems Engineers
NetApp Customers
Prerequisites
Course Objectives
Explain the benefits and relationships between the various components of the SnapCenter solution
Understand the methods to install the SnapCenter server software
Perform SnapCenter configuration of role-based access control, installation of licenses and connections to Storage Virtual Machines
Configure hosts and SnapCenter server Plug-in packages
Prepare data protection relationships for SnapCenter
Perform backup and restore of Windows data
Understand monitoring and managing capabilities of the SnapCenter server
Course Content
This course covers the deployment of the SnapCenter Software 4.0 release. In this course you learn how to install, monitor, and manage SnapCenter Server and SnapCenter Plug-ins. You learn how to install licenses, configure role-based access control (RBAC), and install the SnapCenter Plug-ins for Windows, Linux, and Oracle. You learn how to prepare hosts and connect to the NetApp ONTAP storage system. You also learn how to back up and restore Windows file system data and configure SnapMirror and SnapVault relationships for use with SnapCenter software. The course materials include a guide for hands-on exercises that you perform in a lab setting.
Classroom training
Длительность 3 дня
Цена
Россия:

US$ 2 700,- *

NetApp Training Units:

36 NTU




NTUs могут иметь другую стоимость при использовании в стране отличной от страны их покупки.
Online training
Длительность 3 дня
Цена
US$ 2 700,- *
* Расчеты в рублях по курсу ЦБ РФ
Даты и регистрация
Для регистрации на курс нажмите на название города
FLEX
тренинги проводятся в классе с возможностью присутствия дистанционных слушателей.